HENAN YULITEPROMOTION CO.,LTD.
Stand: 18C24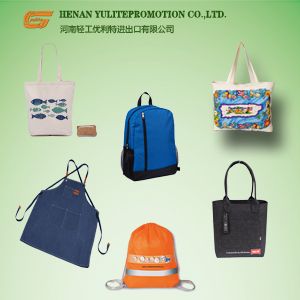 Henan Yulitepromotion Co., Ltd. is one of the leading exporters in promotional business in China. We are located in Zhengzhou, the capital city of Henan province , which is the most important area for cotton plantation and textile industry, as well as the key transportation center in China. With 100 million population Henan ranks the highest in the nation, which grant us a big advantage of low labor cost and efficient worker supply.
Henan Yulitepromotion Co., Ltd is developed from Henan Light Industrial Products Import and Export Group Co., Ltd which was established in 1976. Having tempered ourselves in the fields of exporting promotional bags for over 40 years, we are widely applauded by our customers from more than 86 countries and regions all over the world. We are supplying customers with all kinds of cotton bags, canvas bags, nylon bags, non-woven bags, caps, PVC & PU folders, leather wallets and accessories, kitchen textiles such as aprons, mittens, pot holders, placemats and other related products.
On customers' demands, we guarantee the personalization of products by using techniques such as screen printing, offset & transfer printing, digital printing and embroidery. The digital techenique can help us to work on small orders or make more colorful and fine designs to meet our customer demands. Prompt delivery allows us to have more advantage in promotion projects.
From material selection to production control, each step in the procedure is carefully managed by us. This allows us to gear the entire company toward total customers' satisfaction in quality, selection, price and service.Our focus is always on you for the best solution to your projects.
We are YOUR producer for YOUR brand
Which certification(s) do you hold?
BSCI, SEDEX, REACH, GRS, GOTS