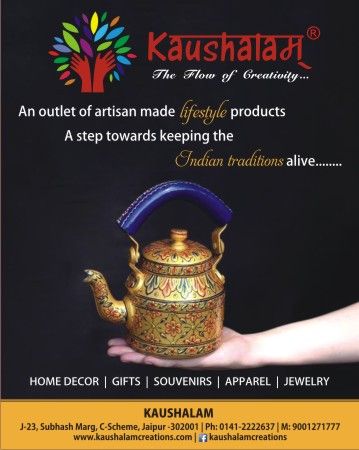 We are the leading manufacturers of authentic Indian Hand painted products designed in various art forms of India. Founded and formed in the spring of 2012, Kaushalam isthe brainchild of social entrepreneur and artist,Mrinalika (Jain) Bhardwaj. The thought behind the venture is to create a niche in the world of art and craft.The prime theme of Kaushalam is to revive the regional,folk and traditional art and art forms of India which were either on the verge of dying or dying a slow death.
The Products – Kaushalam Artensils
Kaushalam is known for the hand painted kettles
and all kind of utensils which we call Artensils. The
inspiration behind choosing themes for our
products comes from rich Indian heritage, diverse
cultures and day-to-day life. The products here are
an amalgamation of the past and present. They are
pieces of art and history with a twist of
modernization and above all every piece is done
with utmost care and love, with the artisans
putting their heart and soul into it. We specializes
in hand painted and handcrafted products for home
and garden and the artisans can paint on any kind
of artwork and on all kinds of surfaces. Their focus
is to bring together the art styles of every state of
India. The customization of products as per
international client's requirements makes them
stand out in the handicraft industry
Which certification(s) do you hold?
MSME, IOSS
Exclusive to Source Home & Gift
YES