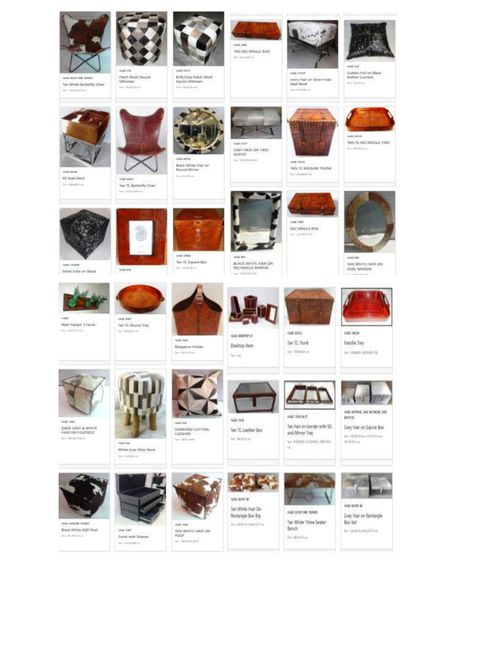 U.&.H
Introduction
U.&.H is sister concern of Abbasi Good Craft (one of India's reputed manufacturers and exporters of Leather Accessories and handicraft.) They had exported their products to different countries, mostly to U.S.A to their clients who are well known buyers. We take utmost care to ensure consistent high-quality merchandises and regularly create new patterns as per buyer's specifications. We are known in the market for high quality and variety of unmatched designs and styling of the products. We have made a significant growth since inception by virtue of our ability to constantly redefine our core competencies through innovation and hard work
Product Profile
We offer wide range of Leather Furniture & Accessories items. Our comprehensive range includes:
Leather Furniture & Accessories:
Picture frame
Placemats
Pen Holder
Cushion covers
Coasters &Tray
Gift Box
Jewelry Box
Ottoman
Rugs
Pouf (Moroccan)
Baskets
Bar Case & Tool Box
Ice Box, Shaker
Bottle Holders and Boxes
Trunk
Drawer Cabinet
Leather Furniture
(Bench, Stool, Sofa & Chair etc.)
Our product range is available in various shapes and sizes, beyond these collections, U.&.H offers a variety of storage item, furniture items, desk set and other table wares. Our range is also available in Beads & Glass Material.
Contact us or Send On-line Query
U.&.H
Contact Person:- Mohammad Zakir Hussain
Address:- OLD NO A-79, 69 NOOR NAGAR EXTN, OPP. MASJID, NEW DELHI - 110025 INDIA
Email. uandh.crafts@gmail.com , abbasiexport@gmail.com
Which certification(s) do you hold?
IEC, MSME, RCMC, GST
Sustainability Role in overall company's strategic plans

INTRODUCE THE BEST INDIAN HANDICRAFTS TO THE WORLD
1 Results