QUANZHOU EXTRAWORLD IMP AND EXP TRADING CO., LTD
Stand: 19E28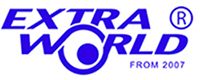 Founded in 2007, Extraworld is dedicated to Creating A Beautiful Life. With over 15 years of experience in the souvenir and gifts industry.
Extraworld Culture and Creation Company specializes in connecting the world through the preservation of diverse cultures and histories. We take pride in offering our customers a comprehensive range of souvenir collections, which include a wide variety of materials such as ceramic, resin, metal, wood, fabric, PVC, and more.
Our goal is to provide a one-stop solution for all your souvenir needs. Whether you're looking for unique ceramics, exquisite resin pieces, or intricately designed metal and wood crafts, we have something for everyone.
At Extraworld, we understand the importance of creating lasting memories. Through our carefully curated collections, we aim to capture the essence of different cultures, allowing you to cherish and share those experiences with others. Join us on a journey of exploration and celebration as we continue to shape the world of souvenirs.
Tel: 86-(0)595-22383512
Email: info@extraworld.cn
www.extraworld.cn
Office address:
3RD FLOOR 1ST BUILDING HAIYU MANSION XIXIAN ROAD
QINGYUANJIEDAO FENGZE DISTRICT, QUANZHOU, FUJIAN, CHINA 362000