RAVITA INDIA
Stand: 19F38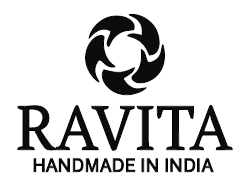 Ravita India is a distinguished manufacturer of exquisite ladies' fashion footwear, bags, proudly based in the vibrant city of Noida, India. With a commitment to promoting Indian handicraft artisans and celebrating the rich heritage of Indian embroidery and weaving techniques, we take pride in creating handmade products that blend tradition with contemporary fashion. Our aim is to empower skilled artisans, offer fashion-forward consumers unique and culturally inspired accessories, and contribute to sustainable fashion practices.
Mission Statement:
At Ravita India, our mission is to showcase the exceptional talent of Indian handicraft artisans by designing and producing footwear, bags and cushions that reflect the cultural legacy of India. We strive to blend traditional techniques with modern aesthetics, creating products that not only elevate one's style but also uplift the lives of our artisans and preserve their invaluable artistry.
Vision Statement:
We envision Ravita India as a global brand recognized for its commitment to artisanal craftsmanship and sustainable fashion. Our vision is to contribute to the resurgence of Indian handicrafts, creating a positive impact on the lives of artisans, fostering cultural appreciation, and inspiring a fashion movement that respects heritage and values.
Core Values:
Artisan Empowerment: Our core value lies in empowering Indian handicraft artisans by providing them with fair wages, a platform to showcase their skills, and sustainable employment opportunities.
Cultural Heritage: We are dedicated to preserving and promoting the rich cultural heritage of India through our fashion accessories, each piece reflecting the artistic traditions of the country.
Ethical Practices: We prioritize ethical and sustainable practices throughout our supply chain, ensuring responsible sourcing of materials and environmentally friendly manufacturing processes. Our production factory is SEDEX compliant
Products:
Hand-embroidered sandals and heels
Woven flats with intricate detailing
Beaded and embellished shoes
Leather and raffia handbags
Fusion-inspired clutches and totes
Leather woven cushions
Key Differentiators:
Exquisite Handmade Craftsmanship: Our products are meticulously handmade by skilled artisans, showcasing the impeccable craftsmanship and cultural richness of Indian embroidery and weaving techniques.
Cultural Fusion: By merging traditional art forms with contemporary designs, we present customers with unique fashion accessories that pay homage to India's diverse heritage.
Social Impact: Choosing Ravita India means contributing to the socio-economic development of Indian artisans and supporting sustainable fashion practices that respect the environment.
Clientele:
Our clientele includes fashion enthusiasts, conscious consumers, and retailers seeking to offer exceptional and culturally inspired accessories. We cater to individuals who appreciate unique designs and wish to make a positive impact through their fashion choices.
Which certification(s) do you hold?
SEDEX